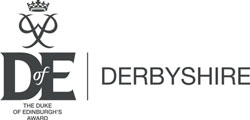 Lea Green is able to offer Derbyshire Duke of Edinburgh's Award (DofE) Centres a wide variety of courses and activities for DofE participants, staff and supervisors.
For Derbyshire Duke of Edinburgh's Award participants:
Expedition Training Weekend (walking)
This camping weekend covers the training syllabus for the Bronze Expedition section and is a good introduction for direct silver or gold participants.
Bronze Expeditions (walking)
On each three day course we offer the opportunity to complete a practice or qualifying expedition. Day one is spent getting to know each other and planning and preparing for the expedition. Days two and three involve a two day, one night expedition in the local countryside.
Silver Expeditions (walking)
We offer a combined 4 day training and practice (for those who have completed Bronze) and a 4 day qualifying expedition both in the Peak District. Day one is spent getting to know each other and preparing for the following 3 days when participants will undertake either a practice or qualifying expedition.
Activ-ability and Adult Activ-ability weeks
Either of these two weeks may be suitable Gold DofE residentials for participants with disabilities and additional needs, please check when booking. Accommodation is provided in Meadow Lodge, a fully accessible bungalow, and all meals are provided. A programme of activities is timetabled for the week, which may include activities such as climbing, abseiling, archery, bushcraft, buggies, team swing, canoeing, arts and crafts and much more. Young people may book onto whichever week is most appropriate regardless of age. If a participant requires personal care or one-to-one support for activities they should bring a carer with them.
All Lea Green staff who provide instruction and supervision for our DofE activities have attended DofE training courses as well as having the required technical competency to lead the activity.
All participants wishing to book onto any of the above for their Duke of Edinburgh's Award must already be registered for DofE at the right level with a Derbyshire DofE Centre. If you live in Derbyshire and do not have a DofE Centre that you can attend, find out about registering as an independent participant.
For Derbyshire DofE Centres, supervisors and staff:
Bespoke expedition packages for DofE Centres
Qualified expedition supervisors to assist with expeditions led by Centres / Licensed Organisations
Team building sessions /days /residential trips for participants or staff
For each of the above we will work with you to provide a package that meets your requirements, please contact us for further information and prices.
Lea Green is also home to the Derbyshire County Council DofE Office and hosts numerous DofE Training Courses for leaders. Find out more information on Derbyshire County Council DofE, their training courses and contact details.
Get in touch
For any questions about DofE courses, training and support provided from Lea Green, please contact Heather Staple on 01629 534561 or by email to heather.staple@derbyshire.gov.uk