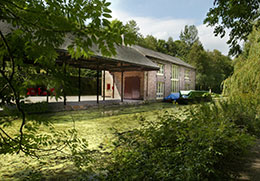 Groups looking for self-catering accommodation can run their own courses or use Lea Green staff for a course and stay at the Wharf Shed on Cromford Canal.
Formally the place where goods were transferred between the railway and the waterways, the Cromford Wharf Shed now provides self-catering accommodation and activity facilities for groups.
A place of major historical significance and a Site of Special Scientific Interest (SSSI), the Wharf Shed is owned by Derbyshire County Council and is available to schools, youth and adult groups and to commercial organisations. Unfortunately, we are unable to accommodate hen and/or stag groups.
It offers unrivalled opportunities to host outdoor, cultural, historical, environmental or adventure courses.
Facilities
Four bedrooms, each of which sleeps six people in three bunk beds
Two leaders' rooms with one bunk bed in each room
Two separate shower, toilet and wash areas
Catering standard kitchen, suitable for cooking for groups
Two lounge areas, TV and DVD player
Main dining area
Drying room and ground floor changing area
Courses
You and your group are welcome to run your own courses using the facilities at Cromford Wharf Shed.
You also have the option to have instruction for individual sessions or a fully structured course from Lea Green staff.
All our courses are individually designed to suit the needs of your group and can focus on learning areas including curriculum topics, team building, trust, communication, developing self-esteem and confidence, building sports or coaching skills, developing life skills.
Our personal development programmes give young people and adults alike the chance to take part in a wide range of courses that are designed to be challenging, and thought provoking. More than anything, all our courses and sessions are good fun!
Courses or instruction can be from a morning or afternoon session through to a full development course that encompasses your stay.