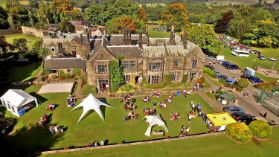 Derbyshire County Council's Lea Green Learning and Development Centre is a warm, welcoming and safe place where all young people and families are valued and cared about. An inspirational and inclusive place to learn, Lea Green allows visitors to experience the outdoors, have fun and grow.
When you book with us, we will work with you to individually design a programme for your group. Catering for all ages and abilities, we focus on what is important to you, and cover areas including:
Team building and group skills
Developing self-esteem and confidence
Communication skills
Peer relationships
Curriculum topics
Skills for life
Problem solving
Social and emotional skills
Easy to organise
From your initial enquiry to waving goodbye, you will see that the Lea Green experience is unique.
Before you arrive, we will work with you to develop a programme of activities specific to your group.
We will consider the age, ability and size of your group, and the outcomes and development you would like to achieve during your time at Lea Green.
You will receive all timetables and documentation ahead of your arrival.
Once you arrive at Lea Green, the experience continues. Friendly and knowledgeable staff, excellent accommodation, fabulous food and a beautiful location make for an exciting experience for all.
We are able to offer a wide range of outdoor and indoor activities within the grounds of Lea Green and in the surrounding countryside. We have four minibuses to transport your group to any offsite activities (please note, these are not adapted for wheelchair users, although we can assist with alternative arrangements).
Feedback from recent visitors:
"We would like to thank you for your encouragement and for helping us to achieve our goals."
"Our visit is something we will remember for many years to come."
"We had the time of our lives, the activities were extraordinary, the food was delicious and the staff were fantastic."
"The activities were epic, the food was delicious and being away from home was a great break."