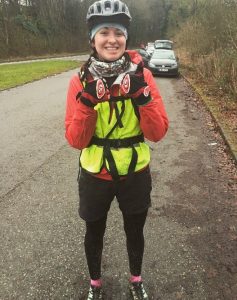 My name is Kelsey Burdell, I'm 21 years old and have worked at Lea Green Centre since September 2015. My role is an Apprentice Outdoor Instructor, I found this job through the National Apprenticeship Service website and applied with an open mind, I was still at sixth form at the time as well as working part-time.
I applied for this apprenticeship because I was interested in what it entailed and it seemed an unusual and varied role, also, I visited Lea Green Centre when I was younger and thought if it was anything like when I visited it would be awesome! I wasn't wrong! I now instruct children, young people and adults on a variety of activities such as stream walks and obstacle courses, I also work with a wide range of people with different disabilities and needs.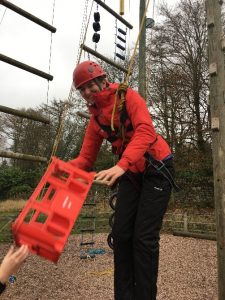 Since working here I've gained lots of confidence and valuable skills that will stay with me during my working life. I have also done lots of training to develop my knowledge on the outdoors and also on the activities. When I started, I didn't really have any awards or qualifications for the outdoors and Lea Green Centre has provided me with the opportunity to do so much! I am now a Level 2 Mountain Bike Instructor and I have also gained my 3* Canoe/Kayak Award. I am also fully first aid trained and have various awards in health and safety, food catering and fire safety.
Apprenticeships are a great way to get into doing something that you're interested in, you get all the training and knowledge while still learning about the job, you meet lots of people and get to do things you never thought you could!
Here's what Kelsey's line manager Paul Smith had to say about her joining the team…
"Lea Green Centre has supported a number of work experiences/placements over the years, but the introduction of the Apprenticeship scheme in 2015 meant we were able to provide an opportunity to appoint someone to our establishment and we secured funding to appoint two apprentices.
The development, skill acquisition and ability that Kelsey has shown since then has been nothing short of amazing. She has become a valued member of the team, receives many compliments from clients and is not fazed by undertaking anything new that may be asked of her. She has embraced the ethos of working in an outdoor educational setting and fully deserves to have a long and successful career in whichever line of work she undertakes."