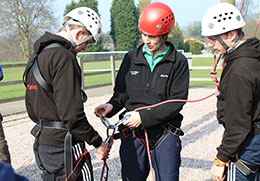 The safety and welfare of young people and adults in our care is our primary concern at Lea Green Learning and Development Centre.
Whilst no one can guarantee that accidents will never occur, we spend a large amount of our time making sure our safety policies and risk management is robust and of a high quality.
Many of the Lea Green staff hold a National Certificate in Offsite Safety Management in addition to their instructional and first-aid qualifications.
Young people need to experience elements of risk in a managed way so that they can learn the skills that will help to keep them safe and enable them to develop into confident young adults.
With our professionally qualified and highly experienced staff, and robust safety procedures, we are able to provide that experience in a safe and caring way.
We are regularly inspected by Derbyshire County Council's health and safety team which ensures our building, food and fire procedures conform to the county's high standards.
Risk Assessments
We update our Risk Assessments on a regular basis. Click here to download our current Risk Assessments.
Adventure Activities Licensing Authority Certification
As an outdoor education and learning centre delivering adventurous activities for young people, we are required in law to be inspected and assessed by the Adventure Activities Licensing Authority (AALA) on the safety and quality of our provision.
Our license number is L14111/R1598.
More information can be found by visiting the AALA website