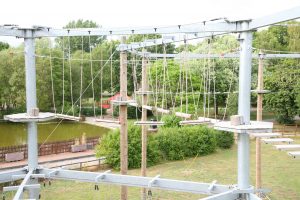 The high ropes course at Markeaton Park, Derby has now reopened as Skyline at Markeaton thanks to a new partnership between Derbyshire County Council's Outdoor Education Service (which includes Lea Green Centre) who will operate the course, and Derby City Council which owns the facility.
Councillor Alex Dale, Derbyshire County Council Cabinet Member for Young People, said: "This is a hugely exciting opportunity for our outdoor education service to offer its expertise in providing an adventurous activity and bringing its commercial know-how to provide an attraction which will be enjoyed by the many thousands of people who visit Markeaton Park every year.
"We have a business plan in place which we're confident will provide a successful future for this exciting facility which will appeal to people of all ages and provide everything from family fun to corporate team-building activities.
"It's ideally placed for visitors, families and school groups from across Derbyshire and Derby to visit, not to mention the thousands of students from the nearby University of Derby campus."
With around 1.6 million visits to Markeaton Park recorded each year, both councils hope the course will attract more than 20,000 people in its first 12 months.
The treetop adventure is located next to Mundy Play Centre and includes various ropes course options, a leap of faith and a zip-line.
Councillor Alan Grimadell, Cabinet Member for Leisure, Culture and Tourism at Derby City Council, said: "This is a fantastic facility in a fabulous park. It's great to have a very experienced and capable operator on board to run the Skyline course. Getting the course re-opened will drive Markeaton Park's continued success as a leisure destination."
Find out more about Skyline at Markeaton and book a session here.