On Sunday 14th May Lea Green Centre hosted YesFest! an accessible and inclusive outdoor music festival.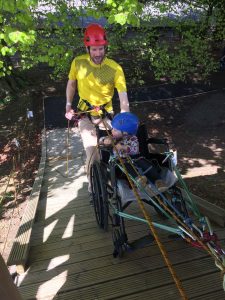 The festival was run in partnership with Donut Creative Arts Studio (DCAS), Fairplay and The Big Music Project and provided a full day of entertainment for groups and families. There was live music from established acts; Cortez Bank, Sophie Winterbottom, Mercenary UK and Stand Amongst Giants on the main stage as well as a range of fun outdoor activities including wheelchair abseil and zip wire. Cubs from 5th Dronfield Hilltop were volunteers on the day and one of their leaders told the organising team that they "enjoyed helping and were grateful for the chance to integrate with young people with disabilities, which they don't often get the chance to do."
Predominantly a music festival, the day also acted as a taster of outdoor activities available at the Centre, there were enquiries about Activ-ability and Meadow Lodge accessible accommodation as well as the teams from DCAS and Fairplay talking to visitors about their events and ways they can offer support.
One visitor who had brought a group of young people with additional needs commented that they "had the opportunity to partake in activities they would not normally do" and visitors were already asking on their way out when the next event would be.