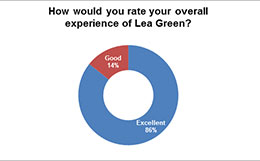 In October, we launched our new evaluation and feedback survey for all residential group leaders. We're really pleased with the feedback and praise from so many groups. However, we aren't going to become complacent and we are working hard to make our service even better!
Here are a few highlights:
Most groups have multiple aims and objectives, like team building, personal development, relationship building, communication skills and active fun.
All responses rated the overall experience as either 'Good' or 'Excellent':
Everyone has rated the activities, staff and facilities as either 'Excellent' or 'Good'.
Our accommodation was rated either 'Excellent' or 'Good', although visitors thought the bathrooms could be improved (see below).
Here are some of the positive comments:
"Leaders quickly establish good rapport with children and visiting staff."
"New touches for visiting staff are great."
"Children all came away with a real sense of achievement."
"Good communication, suggestions and ideas during the course planning and we ended up with a new itinerary this year."
"Having gone to a different venue last year, the children who went to both preferred here unreservedly. Staff concur with this too!"
And here are some of the things you asked us to improve:
Please oil the doors – we've oiled them twice now and will keep an eye on them to make them less squeeeeeaky!
Separate staff bathrooms would be nice – Being an old mansion house, it's difficult to change the layout and facilities, but we've made our staff bathroom nicer and are letting visiting staff know where it is and that it exists!
No blinds in the Flat bathrooms – Thanks for letting us know. We've now put blinds up in all the Flat bathrooms.
GPS and orienteering need checking as some labels are missing and one GPS was not working – All GPS and orienteering points checked and two points moved to make them easier to find. GPS units checked and problems fixed.
We'll continue to collect feedback from groups and work on improving the Lea Green experience for everyone.
If you have any comments, please get in touch!