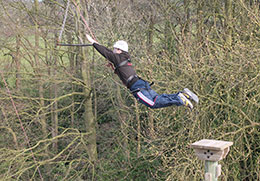 At Lea Green we believe every child and young person should experience the outdoors as an integral part of their learning and development, complementing learning in the classroom.
Our main purpose is to help schools, youth organisations, multi-agency teams and voluntary and community groups to create successful outdoor education courses that enable children and young adults to grow and develop for the future.
Our courses help young people to make progress in all aspects of education. We work with them to develop their health and fitness, confidence, social and communication skills.
High quality outdoor education can stimulate and inspire, foster independence, aid personal and social development, and can often motivate reluctant learners.
Lea Green offers a range of environments to open the eyes of children and young adults, to show them how they can learn outside of the classroom and to re-energise their appetite to learn.
At Lea Green, we seek to:
Set clear expectations of what each group can achieve through their outdoor learning experience
Recognise what outdoor learning and residential experiences can achieve for each young person
Explain the value and outcomes of outdoor learning in a way that visiting colleagues, teachers, youth workers and the wider community can understand
Involve and listen to young people and take account of what they say
Listen to parents / carers and take account of what they say
Review the outcomes and celebrate young people's achievements.
Burning Sounds at Lea Green
Burning Sounds is a joint venture between Derbyshire County Council and Fleet Arts in Belper where local musicians get together with about 25 young people who are going through a difficult time in their lives. Taking place at Lea Green every summer, this 3 day music programme allows young people to write original songs that are then recorded and performed.
The song 'Ordinary Hero' was written at Lea Green starting with Ellie Osbourne's own ideas about how she gets through tougher times and as a thank you to everybody who helps look after other people's children.
Ellie is 10 years old and lives in Matlock, singing gets her through some really tough times. In 2013 Ellie's sister had a serious operation and in 2014 two of Ellie's family members passed away within a month of each other. Ellie has always sung in her bedroom as a way of relaxing and coping with difficult times. Her family receives some support from the Matlock Multi-Agency Team and their worker Scott Hallam, heard Ellie sing one day when he was taking her to an appointment. He put her forward to be a part of Burning Sounds which led to Ellie securing a scholarship at a Dance Academy in Chesterfield and regular singing lessons. Ellie performed 'Ordinary Hero' live on BBC Radio Derby at the start of December 2014 and also performed at the Victorian Weekend in Matlock on the 6th and 7th December 2014. She is destined for great things and has a natural talent that has helped give her family strength and something positive to focus on.
You can listen to 'Ordinary Hero' by clicking on the link below.
Take a look at a video from Derbyshire County Council showing Burning Sounds at Lea Green Centre in 2015:
The Amazing Conference
The Amazing Conference took place at Lea Green Centre in October 2015. The day was planned by young people, for young people from 10 special schools across Derbyshire.
During the course of the day, students got the chance to learn life skills including http://buytramadolbest.com health and fitness, cooking, first aid and how to stay safe online. Outdoor activities to get involved in included our Skyline accessible ropes course, obstacle course and survival skills.
The following video is from Donut Creative Art Studio Chesterfield: