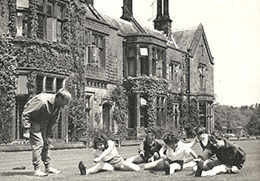 Lea village is one of the few local settlements mentioned in the Doomsday Book of 1086, where it is called Lede.
Since it was built in 1761, Lea Green has hosted a number of famous characters, from the industrialist John Smedley, who bought the house in 1895, to the founder of modern nursing, Florence Nightingale, who was born in Lea.
It even played a part in England winning the football World Cup in 1966!
Lea Green timeline
1761
The earliest records of Lea Green go back to 1761, when it was built. George Marshall sold the 17 acre property to Francis Cook.
1774
On the death of Francis Cook, Lea Green was passed to his youngest daughter, Rebecca Cook.
1829
Rebecca Cook, by now a widow, was living at Lea Green with her son William, who was a medical student. They sold the estate to A. Wheatcroft, Wharfinger of Nottingham in 1829.
1834
Abraham Wheatcroft sold Lea Green to Joseph Wass, the young lead merchant of Holloway. By this time only one building (the main house) remained.
1878
Mrs Ann Wass (the owner at that time) ? bought some more land to add to the original estate from a group of people, which included Florence Nightingale. This additional land now forms part of the gardens and the front park, and included the cottage.
1881
The 1881 Census of England shows who was living at Lea Green.
1895
John Marsden Smedley bought Lea Green and began a renowned link between Lea Green and the famous mill-owning family. The main house was extended, doubling its size. The Smedley family dined in what is now our meeting room and our dining room was used as their billiard room.
1901
The 1901 Census of England shows who was living at Lea Green
1960
The Smedley family sold the house and its 25 acres to Derbyshire County Council for £10,000.
1964
Her Majesty, Queen Elizabeth II, visited Lea Green.
1964
The England World Cup-winning team of 1966 trained and stayed at Lea Green.
1970s
In the 1970s Lea Green was a centre for sporting excellence, hosting a variety of different sporting teams.
2005
2005 saw the beginning of big changes at Lea Green with the construction of the high ropes course, the climbing tower, the low ropes course, the obstacle course and the team swing.
2011
His Royal Highness, Price Edward, visited Lea Green to celebrate the Duke of Edinburgh's Award in Derbyshire.