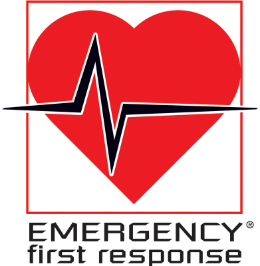 Our two day (16 hour) first aid course is open to anyone, it is ideal for those working with babies/children up to adults and is particularly relevant for those who are working or volunteering in an outdoor environment.
The qualification gained is the Emergency First Response (primary and secondary care) certification. The qualification is appropriate for those supervising expeditions, forest schools, outdoor activities, Duke of Edinburgh Award and to validate most National Governing Body awards. All of our courses include paediatric first aid. The certification lasts for three years in the UK.
Course overview:
The course is divided into two sections:
Primary care deals with handling life-threatening emergencies, including:
Scene assessment
Primary assessment
Adult CPR
Conscious and unconscious choking adult
Serious bleeding management
Shock management
Spinal injury management
Automated External Defibrillator (AED) use
Secondary care teaches you how to provide first aid for patients with conditions that are not immediately life-threatening, including:
Injury assessment
Illness assessment
Bandaging
Splinting for dislocations and fractures
What the course involves:
The course includes video material, discussion, skill development, group work and scenario practice.
The majority of the first day addresses the 'Primary care' syllabus, with plenty of CPR practice indoors.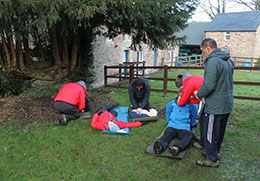 Day two covers the 'Secondary care' syllabus and bring together primary and secondary skills in scenario practice, both indoors and outdoors.
The course is assessed by observation throughout and will finish on the second afternoon with a practical scenario and a short exam.
All of our first aid courses are non-residential and are run for individuals on set dates. They can also be organised specifically for a group from your own organisation either at Lea Green Centre or your own venue.
Elements of the course will involve working outside, whatever the weather so please come appropriately clothed, with boots/outdoor footwear and waterproofs.
By the end of the course, delegates will:
Have learned first aid skills relevant for adults, children and babies
Feel confident in being able to deliver first aid in an outdoors environment
Have experience of a range of accident scenarios
Hold a certificate in adult and paediatric first aid
Course dates:
Cost: £127 (Derbyshire applicants)
£159 (Out of County applicants)
This is a non-residential course running from 9.30am to 5.30pm each day and overnight accommodation is not provided.
Book your place:
Contact Lea Green Centre by calling 01629 534561 or email leagreen.admin@derbyshire.gov.uk for further information and to apply.
Application forms must be received at least 2 weeks prior to the course. Places are limited on courses and will be allocated in the order application forms are received, so please apply early to avoid disappointment!
What have people said?
Course feedback has always been really good and we see a great many of our delegates returning to us at the time of renewal. Here is what some previous attendees thought:
"I really enjoyed the scenarios and felt more confident the more that we practised."
"Great course, really informative and enjoyable."
"Had a brilliant time, felt much more confident thanks to course leaders."
"The course was good in every respect, especially the administration, catering and teaching."
"The scenarios really make you think how you would use the skills."