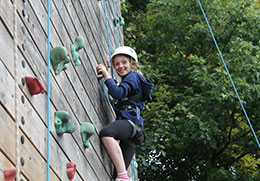 There are a wide variety of activities available for individuals, groups and families of all ages and abilities staying at Lea Green or in our purpose built accommodation for people with additional needs – Meadow Lodge.
Some activities are based within the Lea Green site near Matlock and some take place in the surrounding countryside.
Lea Green has a 'challenge by choice' ethos with an emphasis on children and young adults pushing their personal limits. Activities have varying options based on age, ability and confidence levels.
Within the grounds we have:
* These activities are suitable for year 4 and above.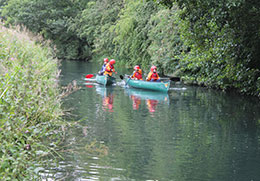 And within a short walk or drive we have:
Bell Boating
Stand Up Paddle Boarding
We also have links with windsurfing, rafting and sailing facilities and are happy to arrange these as part of your visit.
Feedback from some recent visitors:
"We went to the top of the team swing which I didn't think I'd be able to do. I'm no longer afraid of heights!"
"I surprised myself because I went a bit higher than the middle of the team swing, I didn't think I could get that high!"
"I loved the challenge course because I got to work in a team."
"I'm proud of myself because I supported my friend on the climbing wall then she supported me, we worked together."
Sports
As well as adventurous outdoor activities, we have plenty of traditional (and not so traditional) sports.
History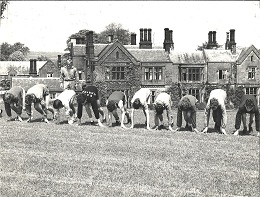 Lea Green has national prominence as one of the country's first dedicated sports training centres. In 1964 it hosted the England Football Squad for their training camp as they began preparations for the 1966 World Cup. The enthusiasm and commitment to sporting excellence and sport for all is something that carries on today.
Sport for clubs and teams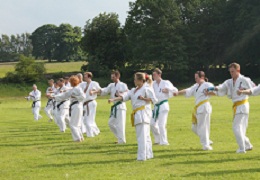 A wide range of National, Regional, County and local sports organisations use Lea Green for training camps, events, races and development days. These sports range from football, rugby, karate, badminton, basketball and wheelchair basketball, through to X-country running, fell races, fun runs and less well known sports including lacrosse, cyclo-cross and boccia. Whatever your sport, Lea Green provides a well-resourced training and event venue for camps or sport days.
Hire of sports facilities
We welcome gymnastic clubs and cyclo-cross cyclists on a weekly basis, as well as local schools for their sports galas and national karate associations for their annual training camps.
Our customers include:
Kyokushin Karate Great Britain
Football teams
Badminton clubs
Lea Primary School