Lea Green Centre has provided accessible activities for people with disabilities and additional needs for many years, and in recent times this inclusivity has increased tenfold.
We believe in ability over disability and will help participants to use our unique environment to develop skills, increase confidence, make new friends and enjoy themselves.
The main asset we have is our staff. Experienced, passionate and understanding, we can help you to achieve.
Activ-ability accessible activities
Get involved with our inclusive activity days for children, young people and adults with disabilities and additional needs.
Visitors can take part in a range of exciting activities in a fun and team environment led by experienced and supportive staff.
Find out about soft play sessions here.
We do not have accessible transport.
For schools, families and individuals
We welcome special schools to Lea Green for their residential trips, and are happy to be able to offer them top of the range accessible accommodation in Meadow Lodge.
Special schools book through the 'schools and groups' booking process, so we can plan your programme according to your desired learning outcomes and experiences. Click here to read more about what we can offer schools.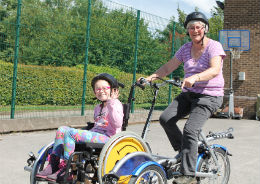 For individuals and families, our facilities are a breath of fresh air. You can use Meadow Lodge as respite accommodation, a short break or holiday. You can keep yourselves to yourselves and simply relax, or add some Lea Green activities to your stay.
More than 25 inclusive activities
Visitors of all abilities might find themselves at the top of our climbing tower, scoring a bullseye in the archery hall or lighting their first fire in a bushcraft session.
The majority of our activities are fully inclusive and include:
Accessible play area
Archery
Boccia
Buggies and bikes
Canoeing
Climbing
Equilibrium
Orienteering and GPS navigation
Soft play and ball pool
Sports
Team swing
Wheelchair abseiling
Ropes courses
As well as our traditional high ropes course, our new addition is a fully accessible course designed for people of all abilities. Visitors can take to the skies and experience the course with their friends, family members or carers. Click here to see the full list of activities.
Accessible play area
Our fantastic accessible, outdoor sensory play area includes a basket swing, wheelchair roundabout and sound tubes and can be used by members of the public as well as visitors to Lea Green and Meadow Lodge.
Members of the public need to register with us to use the outdoor play park by calling 01629 534561 or emailing leagreen.admin@derbyshire.gov.uk. Then simply call or email to let us know when you plan to use it.
Meadow Lodge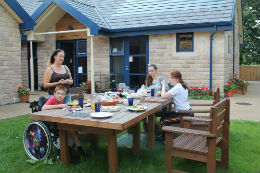 Our purpose built accessible bungalow, designed specifically for people with disabilities, learning difficulties and additional needs really is the icing on the cake for those visitors who stay with us.
A homely environment with all the amenities you need for your stay, Meadow Lodge gives you the opportunity to relax away from home. Click here to find out more about Meadow Lodge.
Disabled parking
Designated parking bays for disabled customers are located next to the main house and outside Meadow Lodge.
Changing Places
A Changing Places toilet and changing room is located at Meadow Lodge and is available for anyone using Lea Green or Meadow Lodge.