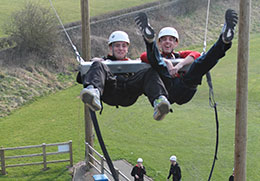 Twenty-five acres of parkland surround the main building at Lea Green and the beautiful Derbyshire countryside is on our doorstep – we like to make the most of it!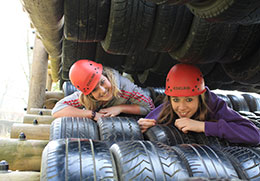 Within the grounds we have:
Bouldering
BMX
Buggy riding (indoor and outdoor)
Bushcraft
Climbing tower
Den building
Equilibrium (the world's biggest seesaw!)
Environmental art
Fire lighting
Frisbee golf
GPS navigation
High ropes courses (x 2)
Low ropes course
Obstacle course
Orienteering
Night line
Problem solving (indoor and outdoor)
Team swing
'Wide' games covering the whole site
Wheelchair abseiling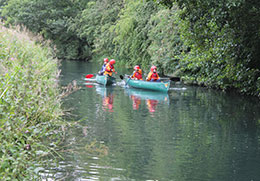 And within a short walk or drive we have:
Abseiling
Canoeing
Environmental studies
Expeditions
Jungle adventure
Navigation
Night navigation
Orienteering
Pond dipping
Rock climbing
Rock scrambling
Stream walking
We also have links with local horse riding, windsurfing, rafting and sailing facilities and are happy to arrange these as part of your visit.
Download