Adventurer and Chief Scout Bear Grylls visited us on Saturday 16th May to join more than 300 Derbyshire Cub Scouts on their activity fun day.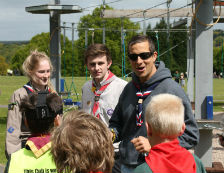 Bear arrived via helicopter to have photographs taken with visitors, sign autographs and took on the adrenaline rush of our team swing with Scout Adam Hardy, of Chesterfield, who said: "That was a great experience, Bear is one of my heroes and to have shared the swing with him was great".
More than 100 Scout groups were represented at the event, which also included buggies, climbing, teamwork exercises and campfire cooking.
Bear took the time to speak with Vice Chair of Derbyshire County Council Janet Hill who thanked him for attending on behalf of the young people who were clearly thrilled to meet with their hero. Councillor Hill said; "I was part of the volunteer team for the Disability Rocks festival which took place here recently and am once again delighted to see so many children and young people enjoying the activities on offer here and the wealth of opportunities this Derbyshire County Council centre provides."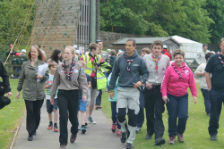 Tom Stoddart, County Commissioner for Derbyshire Scout Association said of Lea Green Centre: "Brilliant place to hold a large scale event. Friendly staff who could not do enough for us. Great day." 
Steven Judge, Cub Scout Leader and Local Media Relations Support Officer with The Scout Association, summed up the day for us: "It has been a great day for everyone involved and Bear took plenty of time to pose and speak with almost everyone who was here."
View some photos in the 'Events' album in our Gallery
See coverage from the day on BBC East Midlands Today here