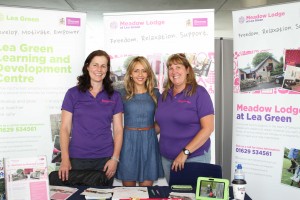 Lea Green staff had a fab time promoting Meadow Lodge, our accessible accommodation, at the annual Disability Direct Do What You Want event in Nottingham on Wednesday 16th July 2014.
Do What You Want Live hosted over 100 organisations offering advice, services and equipment for disabled adults and children, older people, carers and professionals.
We were invited to the event by Disability Direct in conjunction with CredAbility, Nottinghamshire County Council and the Office for Disability Issues.
We met lots of fantastic people and even Samia Ghadie popped by to say hello 🙂