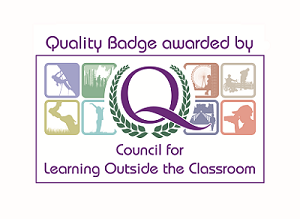 Lea Green has been awarded the Quality Badge by the Council for Learning Outside the Classroom, demonstrating that the centre offers good quality educational experiences and manages risk effectively. The award of the badge recognises the experienced staff and excellent facilities at the centre and the commitment it has to sustain high quality learning.
Learning outside of the classroom enables children and young adults to interact in new ways with their peers and adults, allowing relationships to improve between teachers and pupils. 99% of teachers say that students are more animated and engaged when learning outside the classroom (Opinion matters survey on behalf of TUI Education Division, 2010). At Lea Green the outdoor environment our activities take place in makes learning more memorable and recognises the potential of each individual, developing skills and confidence which can be transferred to the classroom.
The Council for Learning Outside the Classroom (CLOtC) champions opportunities for all children and young people to benefit from high quality and varied educational experiences. As a Quality Badge holder, Lea Green has been rigorously assessed as providing good quality and safe educational provision.
The accreditation gives further assurance to parents, teachers, carers and group leaders that the centre is a safe and supportive learning environment. This is reflected in feedback we receive from teachers and parents of children and young adults to have recently visited the centre:
"We would definitely stay again – great flexibility with activities and excellent support from all staff at Lea Green."
"Friendly, helpful and patient staff and instructors – ensuring all of us were happy and able to participate." 
"Lea Green staff are excellent with our young people – straight to the point and treat all with respect."